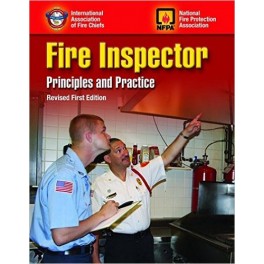 A Fire Inspector is tasked with many responsibilities, including:
Ensuring compliance with fire regulations and safety standards
Inspection of fire prevention systems
Gathering evidence at fire scenes in order to produce forensic reports and testify in course
Effectively communicating with various parties
Ricky Rescue Training Academy's online "Tennessee Fire Inspector 1 Course" is approved by the Tennessee Firefighting Commission (TFC). This course uses the NFPA 1031 Standard for Professional Qualifications for Fire Inspector and Plan Examiner and surpasses the requirements included in this standard. The course will provide you with a thorough understanding of the skills you need to serve as Tennessee Fire Inspector 1. It is designed to be taken by public officers with a responsibility for ensuring public safety as well as by officer-level personnel who want to move into fire inspection.
The "Tennessee Fire Inspector 1 Course" will introduce you to a range of subjects particular to the role of a fire inspector. The course will cover a wide variety of topics including:
Fire and safety code enforcement
Issues of infringement notice and appropriate follow-up methods and procedures
Building construction and its relationship with fire safety
Effective identification of hazardous materials
Effective inspection of fire systems
Designing fire exit plans
Organizing fire drills
Fire inspection procedures
Effective and competent evidence gathering at fire scenes
Effective compilation of forensic reports
Effective testifying and court appearances
This course will provide you with a thorough understanding of these topics, as well as the general responsibilities associated with a Tennessee Fire Inspector 1 with the Tennessee Fire Services. By successfully completing this course, you will be qualified to sit for the TFC Exam for Fire Inspector 1 certification.
In addition to enrolling in this course, you must have:
Fire Inspector: Principles and Practice Jones & Bartlett, ISBN 978-1- 284-08727- 7.
NOTE: This book will not be provided with your purchase of this course, but the book can be purchased through technical bookshops or online.
A high-speed internet connection
Because this an online class, there are certain requirements of candidates. You will be held completely responsible for your own achievements. You must ensure that you work consistently and diligently to complete the course work and related requirements in order to move forward. This is an open enrollment course that will allow you to pace yourself, but will require sufficient self-discipline to keep up to date with the work load. Therefore, it is your responsibility to set aside the time required as convenient to complete the various units of this course.
CHAMILO_CODE

FIREINSPECTOR